Service functions
Send report to e-mail
Enter e-mail recipient *
Your e-mail *
Comment :
* required fields
Traction Rolling Stock Renewal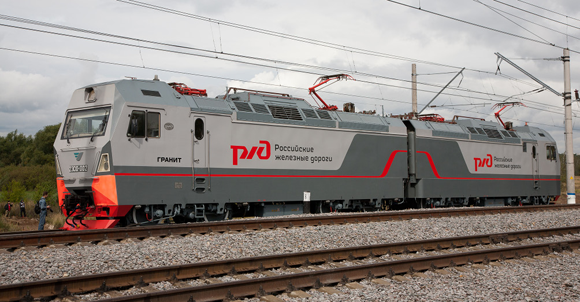 The supply of a new series of locomotives allowed the redeployment of the released fleet to areas with increased freight turnovers and replaced locomotives whose serviceable life had expired.
Most locomotives purchased are brand new models or state-of-the-art series. In 2012, the following significant purchases were made:
30 DC electric freight locomotives of 2ES10 Granit series with an asynchronous traction engine — these are one of the most powerful freight two-system 16-wheel mainline electric locomotives in Russia and Europe;
six new Russian mainline diesel freight locomotives of 2TE25A (AM) series that can operate in the most challenging conditions of the north;
two energy-efficient shunting locomotives with a two-diesel power plant of TEM14 series and two light-weight shunting locomotives of TEM18V series with diesel by Finnish company Wartsila. All machines are made in Russia.
The use of new locomotives will enable a significant increase in the applicable tonnage rating in relevant areas of operation, reduce the consumption of fuel and energy resources, and save maintenance costs. The released fleet was redeployed to areas with increased freight turnover and used to replace locomotives with whose serviceable life had expired. Last year saw the redeployment of 573 locomotives, which enabled, in particular, the replacement of 3TE10 diesel units with outdated 10D100 diesel engines with new and more fuel-efficient D49 engines.
At the year end, 532 units of traction rolling stock (+17.4% versus 2011) at a cost of RUR 51.7 bln were supplied to JSC "RZD", including:
Passenger
amounting to RUR 8.0 bln
95
EP1M, P — 48 pcs., EP2K — 41 pcs., EP20 — 6 pcs.
Freight
amounting to RUR 28.4 bln
240
3ES5K — 80 pcs., 2ES4K — 40 pcs., 2ES6 — 90 pcs.
Mainline
amounting to RUR 11.4 bln
.
101
Mainline
amounting to RUR 1.7 bln
25
TEP70BS
Freight
amounting to RUR 9.7 bln
76
2TE25AM — 6 pcs. and 2TE116U — 70 pcs.
Shunting
amounting to RUR 3.9 bln
96
TEM 7A — 27 pcs., TEM 14 — 2 pcs., TEM-18DM — 65 pcs., TEM-18V — 2 pcs.
The Most Powerful Cargo Locomotive