Service functions
Send report to e-mail
Enter e-mail recipient *
Your e-mail *
Comment :
* required fields
Operational Results of the Year
| | | | | |
| --- | --- | --- | --- | --- |
| Freight transportation | Locomotive hauling services | Infrastructure services | Passenger transportation | Other activities |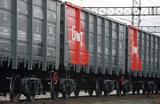 JSC "RZD" is engaged in freight handling operations, freight transportation by public and private railways and freight storage services, including freight customs clearance.
Income from freight transportation
Expenditure on freight transportation
with regard to freight handling, 1,440 mln tons of freight were transported, up 3.2% versus 2011;
net freight turnover exceeded the level in 2011 by +4.4% amounting to 2,222.4 bln tr-km;
the volume of export freight loading amounted to 1,123 th. tons a day (representing 32% of the total volume of transportation); compared to 2011, export loading increased by 2.8%, (and compared to the pre-crisis year 2007 by 5.3%).
JSC "RZD" provides locomotive hauling services to private transport companies who own or lease cars.
Income from locomotive hauling services
Expenditure on locomotive hauling services
the average daily running distance of a locomotive is 585.4 km (−1.4%). The decrease is due to the optimization of the operator's freight car fleet turnover;
the increase in income from locomotive hauling services versus the previous year is +8.6%;
many locomotives supplied are state-of-the-art, fitted with an asynchronous traction engine: 2ES10 Granit, 2ES5 electric locomotives, 2TE25A Vityaz diesel unit and EP20 passenger two-system electric locomotive.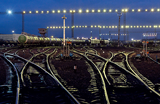 Provision of the public rail transport infrastructure and other services to clients; provision of private tracks owned by the Company; infrastructure operations, maintenance and repair.
Income from infrastructure provision services
Expenditure on infrastructure provision services
income from infrastructure services increased by RUR 0.5 bln compared to 2011 (+0.5%);
the total volume of repairs amounted to 10.4 th. km;
7.3 th. km of track were overhauled and upgraded;
the length of sections in operation with excessive tonnage and beyond their serviceable life reduced by 426 km and, by early 2013, amounted to 20.54 th. km (representing 16.5% of the total length of the main track).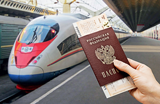 JSC "RZD" is engaged in passenger transportation on suburban and long-distance trains along a number of international routes; in Moscow, Sochi and Vladivostok, it provides passenger transport services to the main airports on aeroexpress trains.
Income from passenger transportation
Expenditure on passenger transportation
passenger turnover increased to 144.6 bln pass-km (+3.4%), including:

long-distance — 113 bln pass-km (+2.3%),
suburban — 31.6 bln pass-km (+7.8%);

infrastructure of JSC "RZD" railways was used to transport 1,058,8 mln passengers, including:

long-distance — 116.6 mln passengers;
suburban — 942.2 mln passengers.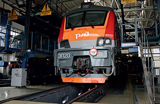 The Company provides the following other services: repair of rolling stock, construction of infrastructure facilities, forwarding and social services, energy transmission and lease of movable and immovable property.
Income from other activities
Expenditure on other activities
The Company's income from other activities increased by RUR 5.9 bln (+4.0% year-on-year on a like for like basis);
The Company seeks to improve its performance in the provision of social services. By 2011, the Company's losses from the provision of these services decreased by RUR 0.4 bln (−14.1%).