Service functions
Send report to e-mail
Enter e-mail recipient *
Your e-mail *
Comment :
* required fields
Personnel Management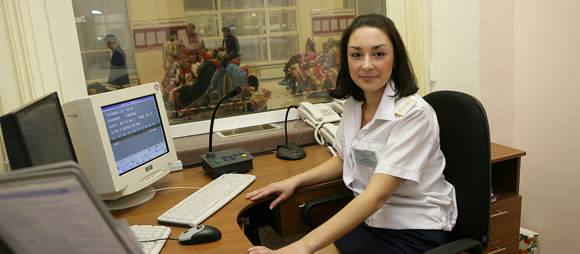 Employees are our main asset. Their ambition, enthusiasm and commitment are key to the economic success and competitive power of JSC "RZD". We achieve our strategic aims through the ir involvement in the performance of corporate tasks.
Basic personnel management principles
Improved attractiveness of JSC "RZD" as an employer
Attraction and retention of employees with required qualifications
Manpower management supported by the introduction of innovative technical and engineering solutions
Generation of effective talent pool, continuous personnel development
Professional and personal development of young employees
Consolidation of the corporate culture based on RZD brand values
We strive to be an attractive employer. Around two-thirds of the allowances, warranties and compensations provided to Company employees are higher than the standards provided for in Russian law. But the se costs are justified. By increasing our employees' income, encouraging the ir initiatives, personal and professional growth, and helping the m improve the ir housing conditions, the Company attracts and retains the best of the m. In the long run, this helps us continuously improve the quality of our personnel and ensure a constant increase in labor productivity and performance.
Top-priority activities of the social and personnel unit in 2012 and in the near term
Support of structural reforms at JSC "RZD"
Improvement of the personnel management system
Introduction of best labor management practices
In 2012, the Company removed its largest branch — the Central Infrastructure Directorate. Given that structural reforms must be backed up by relevant changes in the personnel management system as well, a target model of social and personnel unit processes was developed, which serves as the basis for the development of regulations for the interaction between personnel units at all management levels of JSC "RZD". These changes will further ensure the effective performance of tasks that the unit is undertaking.
Ongoing structural changes in the Company are also reflected in the new Conditions for Team Competitions in 2012-2013. In 2013, the Company is introducing the practice of labor competition at a functional branch level.
Another innovation introduced in 2012 was a collective form of labor management and motivation at sorting depots: employees of operational and repair depots engaged in the common process of transport management are united to set up integrated teams, which bear joint responsibility for the end results of the depot, the performance of train dispatch and tasks to decrease train standbys.
In 2013, JSC "RZD" will introduce the system of corporate personnel requirements. It also intends to develop a new Bargaining Agreement for 2014-2016, ensure manpower optimization and increase the real income of JSC "RZD" employees.