Service functions
Send report to e-mail
Enter e-mail recipient *
Your e-mail *
Comment :
* required fields
Talent pool development at JSC "RZD"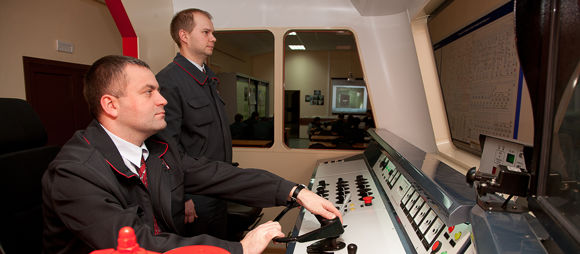 The JSC "RZD" training, conversion and skill improvement program is based on the competence approach. It applies to all employees of JSC "RZD" at all levels. However, the content and requirements of corporate competences vary subject to an employee's level.
The competence approach provides the opportunity to master a set of skills and knowledge to complement current individual skills: employees immediately put knowledge obtained into practice using it to perform real Company tasks. Employees' competences are evaluated by experts of the Corporate University and road Centers for Personnel Monitoring and Evaluation and Youth Policy based on "assessment center" technology. Business education system of JSC "RZD" is in place. Managers are trained in the Corporate University.
Business education system of JSC "RZD" is in place. Managers are trained in the Corporate University. According to the graduation marks and in view of the progress in their development, experience and expertise, they can be enrolled to the candidate pool, sent for further training or retraining or admitted to individual educational programs with a possibility to study in prestigious business schools, including abroad.
In line with the Personnel Training, Conversion and Skill Improvement Program, in 2012:
61.3 th. people were trained in new and secondary professions (110% of the annual target);
the skills of 152.4 th. workers were improved (112% of the annual target), including 25 th. people who improved skills in the ir category.
In 2012, 46.5 th. people (111% of the annual target) acquired new and secondary professions and 43.6 th. workers (104% of the annual target) improved the ir skills at the Company's technical schools and training centers.
5 K+L corporate competence model has been developed based on JSC "RZD" brand values: "Workmanship", "Integrity" and "Renovation"
Brand value
WORKMANSHIP
Competence
Customer focus
INTEGRITY
Corporate governance and responsibility
Quality and safety
RENOVATION
Creativity and innovation
Leadership
Company's strategic task is to introduce the principle of continuous professional and personal development of managers
In 2012, some 70 th. managers and specialists of JSC "RZD" took part in advanced training programs. In its executive education programs, the Company co-operates with leading educational establishments:
"Corporate management" program at the Russian Presidential Academy of National Economy and Public Administration was completed by 42 people — deputy directors of railways and heads of regional directorates.
"International logistics and supply chain management" program at the Center for International Logistics and Supply Chain Management of the Graduate School of Management of St. Petersburg University was taken by 23 people.
Jointly with the Stockholm School of Economics, JSC "RZD" is implementing an Executive МВА modular corporate educational program. In 2012, a group of 40 people completed the ir studies.
More than 160 young managers completed training under MBA and Executive MBA group programs of conversion training at Russian and foreign business schools; six young managers completed business education training abroad.
Two groups of HR managers of JSC "RZD" branches and units (60 people) took further training under the program "Practice of human resources management in Russia".
Programs to improve language skills were arranged for managers and specialists working internationally who studied at business schools and were a part of the superior candidates pool: 110 people took on-site training, 1,000 were trained off-site and 12 people at a foreign language school.
The Company arranges additional shortterm training programs in Germany, France, Great Britain, Finland, Czech Republic, Spain, Korea, China, Norway and the USA. Last year, 586 people took part in programs developed for various specialists.